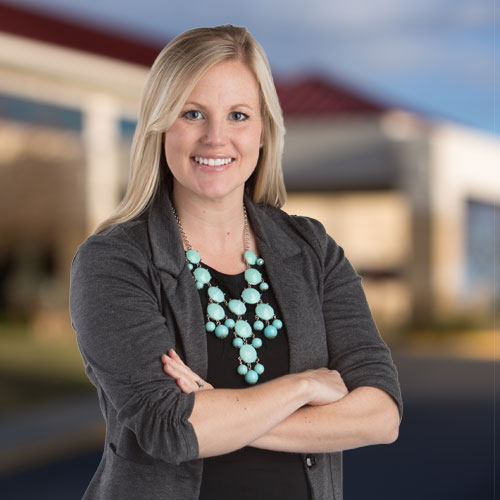 Halie Anderson, MD
Dr. Anderson is originally from Spearfish, South Dakota and attended the University of South Dakota Sanford School of Medicine. She completed a pediatric residency at the University of Wisconsin-Madison, where she also served as chief resident and worked as a pediatric hospitalist.
She then went on to complete fellowship training at the University of Wisconsin-Madison, a leader in the field of adult and pediatric allergy and immunology. While she is a board-certified pediatrician, her fellowship training and board certification for allergy and immunology cover both adult and pediatric patients.
She is one of only five board-certified allergists currently practicing in the state of South Dakota, along with her partner Dr. Abigail Finley. Their specialty brings a much-needed service and expertise to this community.
Her passion is sparked by building relationships with patients and family members and working together to improve health and quality of life.
In her spare time, Dr. Anderson enjoys "chasing" around her three children at various activities, mountain biking with her husband, and listening to audiobooks.
Excellent
4.6
★
★
★
★
☆
review us on
Alan Case
★★★★★
Dr. Anderson is very caring, and is always looking to find ways to improve your health or quality of life.
Nicole Carano
★★★★★
Maribeth Roghair
★★★★★
Dr. Anderson and her nurse are wonderful!! The care and compassion they gave to my son, and desire to help find the best treatment for him is obvious! I'd recommend them to anyone! Thanks for the great care!
Julieta Munoz
★★★★★
JINGER CLYDE
★★★★★
Lorena Hight
★★★★★
P Apps
★★★★★
Seem like knowledgeable folks. Pretty straightforward.
Jenna Sorensen
★★★★★
Dr. Anderson is so wonderful! She took extra time to make sure all of our questions were answered and helped create a plan to best help our son! We had a wonderful experience and appreciated the attention to detail & kindness from the whole staff!
Ariel Thompson
★★★★★
I wish there were more stars to give! I absolutely adore the whole staff here, they have been more than helpful and attentive! Thank you for all that you do!
Autumn Stricklan
★★★★★
I absolutely love my son's Asthma doctor Andrea Hansen! She's always so kind, caring and willing to listen. My son started to go to her October of 2021 and since then his asthma is completely controlled. Before his asthma was horrible and was constantly in the hospital not being able to breathe and hooked up to countless machines. If you need an asthma or allergist for you or your kid(s) I recommend her!!!
Sheri Kelly
★★★★★
We have been with both Halie Anderson and Andrea Hanson and they are both AMAZING, my daughter has severe allergies and they are very informative of the process (she has to do 2 different sets of shots) and the explanation of why. I feel totally confident in their abilities and how they treat my daughter. Danielle who gives the shots is an awesome person as well, makes sure that my daughter is taken care of. Highly recommend!
Kayla Hughes
★★★★★
Dr. Anderson is amazing. She really takes the time to listen to your concerns. I would highly recommend her.
Moni Gubka
★★★★★
Rebecca Myers
★★★☆☆
Not super kid friendly even though recommended by our pediatrician. With procedures the staff of nurses and doc didn't spend time to talk to or make my daughter age 3 feel comfortable in the clinic and space. I also felt that when questions were asked about options of treatments for once the allergy was confirmed was put off until test results were given and with food allergies hearing to avoid them is a waste of time and honestly a pretty horrible test to put a toddler through. I appreciated the honesty that avoidance was the best policy over immunotherapy options but this was a known allergy that we already were taking care of on our own this whole process was a waste of time and money.
Candice Lane
★☆☆☆☆
Can't get an appointment for 3 months. She has no info available online. Can't get any info about types of allergy treatments she offers by phone. Billing says that she does allergy shots but no info on drops or lymph node injection treatment. Not worth the wait. Going elsewhere. In Colorado, MD's offer shots, drops and lymph node injections and only 1 week wait for an appointment, and can get all info by phone and online. I guess I'll take a trip there.PS to response- I talked to 2 different people on my original call and information was not forthcoming. Too bad I had to write this review to get an offer of assistance.

(605) 342-3280
2820 Mt. Rushmore Rd.
First Floor (by Urgent Care)
44.05715085,-103.23122799191563
Allergy, Asthma, & Immunology Clinic