Dr. Fromm is a Rapid City native and comes from a family of local physicians. He attended St. Olaf College in Northfield, MN, where he met his wife, with whom he now has three children—two sons and one daughter. He returned to South Dakota to attend medical school at the University of South Dakota and went to the University of Iowa for surgical training.
One of the things he enjoys most about surgery is performing minimally invasive procedures, including robotics, laparoscopic and some advanced endoscopic procedures. The advantages of minimally invasive techniques include faster patient recovery and fewer complications. He is especially interested in treating diseases of the esophagus, stomach and endocrine system using these techniques.
He is the Medical Director for the Bariatric & Metabolic Institute, a division of Rapid City Medical Center that offers surgical and medical treatments to patients with metabolic syndrome or obesity. The goal of the Bariatric & Metabolic Institute is not only to help patients achieve a slimmer physical appearance but to prevent and control health conditions associated with obesity, such as diabetes, high blood pressure or heart disease.
In addition to his practice at Rapid City Medical Center, he is heavily involved in leading the robotic surgery program at Rapid City Regional Hospital and is an associate professor for the University of South Dakota Sanford School of Medicine at the Rapid City campus.
He spends much of his free time with his family, supporting his children's various sporting, musical and arts activities.
Board Status

Certified American Board of Surgery

Specialty

General Surgery
Primary Location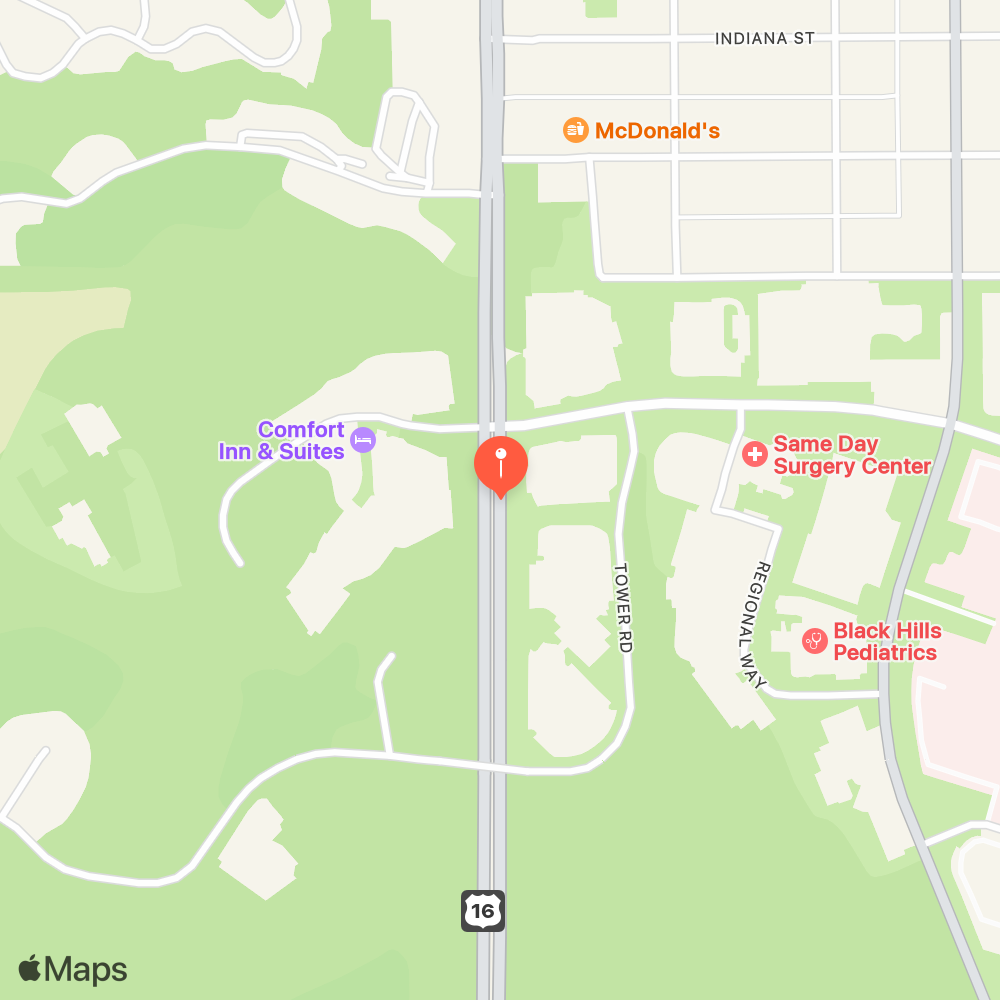 Rapid City Medical Center Mt. Rushmore Road
2820 Mt. Rushmore Road
Rapid City SD 57701
605-342-3280
Services Provided
General Surgery
Hernias
Hiatal Hernia
Laparoscopic Surgery
Bariatric Surgery
Vascular
Breast Cancer
Pediatric Surgery
Parathyroid Surgery
Thyroid Surgery
Gastroesophageal Reflux
Upper GI
Biliary Disease
Gallbladder
Pancreatic Diseases
Robotic Surgery
General Thoracic
Acute Care Surgery
Pancreatic Cancer
Lung Cancer
Colon Cancer
Esophageal Cancer
Pancreatic Cystic Lesions
Biliary Strictures or Masses
Metastatic Liver Lesions
Hepatic Masses
Gallbladder Disease
Medically Refractory GERD
Achalasia
Adrenal Masses & Cancer
Thyroid Masses & Cancer
Hyperparathyroidism
Splenectomy
Crohn's Strictures
Anal Fissures or Fistulas
Hemorrhoids
Pleurodesis for Recurrent Effusion
Lung Wedge Biopsies
Mediastinal Biopsy
Breast Lesions
Melanoma Excision with Node Biopsy
Lymph Node Biopsies
Lipomas or Soft Tissue Masses
Retroperitoneal Masses
Varicose Veins
Carotid Stenosis
Reviews
May 26, 2017
Survey
•
Rapid City Medical Center
May 19, 2017
Survey
•
Rapid City Medical Center
Learn More About RCMC